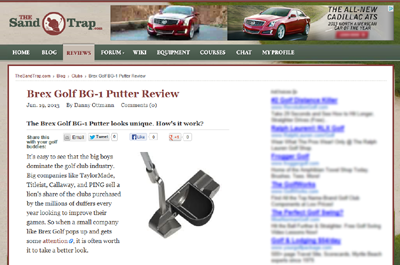 TheSandTrap.com's reviewer, Danny Ottman, put the finishing touches on his thorough review of the Model BG-1 Complete Package and posted it on June 19, 2013.
The time that Danny spent with the BG-1 putter enabled him to really appreciate the elements of the design that make it truly unique. The following is a portion of my reply to Mr. Ottman and The Sand Trap's director, Mike McLoughlin:
"I'm thrilled that you discovered that what you thought was your preferred hosel design turned out to not be the one that works best for you. That's exactly the essence of this system. In early prototyping, I met with a golf magazine editor who, after putting with all three designs, commented that he didn't know why, but he could putt much better with one than the others. Cool stuff.
Regarding the sound of the putter, we get comments about the unusual sound but also that it also provides excellent feedback, something that is lacking in most putters that are designed to be aurally dead. Off-center putts sound a bit different and brighter than putts struck dead center which should also help golfers who use the BG-1 become better putters. Please try that and see if you agree."